A Blackbird in Silver
A Blackbird in Darkness
A Blackbird in Amber
A Blackbird in Twilight
Darker than the Storm
A Blackbird in Silver Darkness (omnibus)
A Blackbird in Amber Twilight (omnibus)
All five Blackbird novels are now available on Kindle! You can find buying links on the Home page. Or you can purchase the first four as two omnibus editions from Immanion Press - click on the Buy Novels link. Read on for cover images and lots of info about the series as a whole.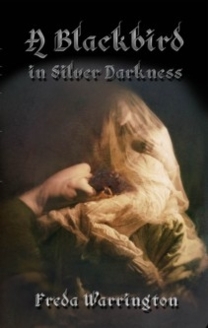 A Blackbird in Silver Darkness
, Immanion Press 2008, pb omnibus
A Blackbird in Amber Twilight
, Immanion Press 2009, pb omnibus
The original four books were actually two pairs, each pair telling a complete story. (For original covers and synopses, see below). The re-issue of a "trilogy in four parts" as two books clearly creates a vacancy. One day I hope that this will be filled by a brand-new Blackbird novel, A Blackbird in Crimson Shadow, incorporating the "orphan" novel Darker than the Storm (see below). When I'll find time to write it is anyone's guess. However, when I do, A Blackbird in Crimson Shadow will tell the story of the sorceress, Filmoriel, that I've wanted to write since I started the very first Blackbird book all those years ago.
The images on the new covers above are by Polish photographic artist Malgorzata Maj. I chose the images and suggested the layout, which was beautifully put together by designer Andrew Bigwood. Thank you, both, and thank you also to Storm Constantine for founding the amazing independent publisher Immanion Press.
---
A Blackbird in Silver
New English Library (Hodder & Stoughton) 1986 and 1992 (original covers)
"One of the best British writers of fantasy." - Publishing News
Only three can save the Earth ...
In another universe there drifts a strange Earth of Three Planes: mysterious dimensions that intersect with reality. But the world is doomed by the voracious Serpent M'gulfn whose only purpose is to consume all life.
At the House of Rede, last refuge of the wise, three travellers gather to launch a last desperate quest against the Serpent. From Forluin - green, half-fabled land of beauty and peace - the gentle Estarinel has journeyed, bearing tragic news.
From the terrible Empire of Gorethria rides Ashurek; a lean and deadly warrior, once High Commander of its armies, scourge of the Earth, hated and feared across its continents.
The third is known only as Medrian. Coldly wrapped in her cloak of sorrow, her eyes deep-shadowed with suffering long-endured, she will explain nothing of her reasons.
Theirs is the Quest. They must slay the great Serpent M'gulfn before it lays waste and utterly destroys the Earth. Together they must seek its lair in the far frozen north, battling peril and nightmare until they face the ultimate, indestructible foe ...
Three warriors. An epic Quest. They are the world's last hope ...
Author's Note... A Blackbird in Silver was not the first novel I'd ever started by any means, but it was the first one I actually finished! I began it when I was sixteen and worked on it in my spare time - handwriting in a big ring-bound folder - while I was at art college. Inspired more by writers such as Michael Moorcock, Tanith Lee and Joy Chant than by Tolkien, the story grew out of my youthful fears of the cold war and nuclear annihilation. I couldn't do much about it in real life, but I could send my heroes (anti-heroes?) Ashurek, Estarinel and Medrian against the terrifying Serpent M'gulfn.
The result was a sword-n-sorcery style of fantasy with a weird and eerie atmosphere - it is indeed a very weird, nightmarish and slightly surreal tale. I think that's what makes it special! Silver and Darkness began life as one complete novel, but became split in two at the insistence of my publisher. I'm thrilled that they've finally been reunited in one volume telling the whole story, A Blackbird in Silver Darkness published by Immanion Press. Here are the original covers for the second volume that completes the first Blackbird adventure.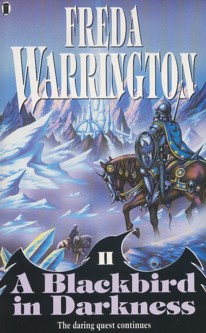 A Blackbird in Darkness
New English Library (Hodder & Stoughton) 1986 and 1992
"Warrington's prose is literary velvet, luxuriating in colour and texture" - Infinity Plus Website
---
There came a further Blackbird saga, again published in two volumes (now reunited at A Blackbird in Amber Twilight)
...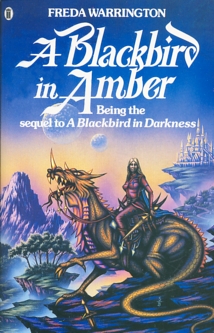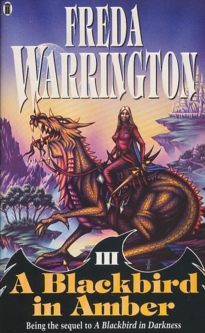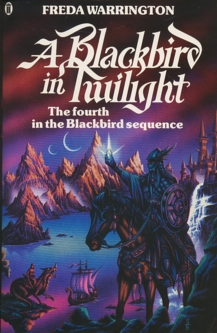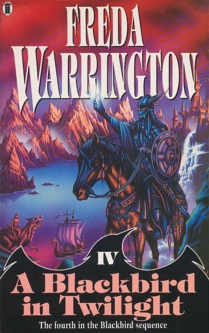 A Blackbird in Amber
A Blackbird in Twilight
NEL 1987 & 1992, 1988 & 1992
The great Serpent M'gulfn is dead, all save one of its demon-servants destroyed. Now is the time when the power of sorcery might be harnessed for good or for evil.
Journeying disguised to Gorethria comes Melkavesh, daughter of Silvren and Ashurek, eager to use that latent power for good. It seems she is too late, for a ruthless usurper, Duke Xaedrek, has already seized control. Aided by a demon with malign intentions of its own, he intends to restore the evil Gorethrian Empire.
To save the Earth of Three Planes, Melkavesh must defeat Xaedrek - even though their conflict may claim innocent victims and bring other lands to ruin. And can she withstand the temptation to reclaim her birthright - the dark throne renounced by Ashurek - or resist the all-too-seductive charm of Xaedrek himself?
Author's Note... If books had colour schemes, A Blackbird in Silver Darkness would be blue, black and white - the colours of the three mysterious Planes - while A Blackbird in Amber Twilight is a story of feverish jewel-colours, reflecting the turbulent power-struggles of the Gorethrian Empire as Ashurek's daughter Melkavesh returns to claim her birthright. Like the first pair, the second pair have also been brought together in a paperback omnibus, A Blackbird in Amber Twilight, telling the whole story.

Immanion Press also published the four books in specical hardback collectors' editions in 2004. Artist Ruby made a beautiful job of portraying my characters: peace-loving, beautiful Estarinel, stern warrior Ashurek and mysterious Medrian - not forgetting their glorious, green-blooded nemesis, Arlenmia. I don't seem to have images of 'Amber' and 'Twilight' (different artist) to hand, but here are Ruby's. Unfortunately these hardbacks are now out of print but you may still find copies floating about - I have one spare set at least.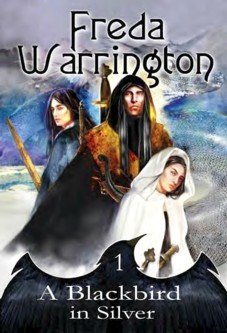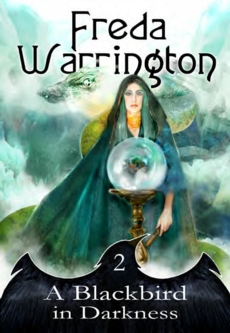 ---
And finally... This apparent "orphan novel" is actually part of the Blackbird series too, telling the story of what happened to Ashurek and his love, Silvren, after the end of A Blackbird in Silver Darkness and before A Blackbird in Amber Twilight...
Darker than the Storm
(NEL, 1991 paperback)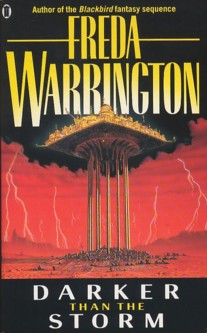 Prince Ashurek of Gorethria looked up amazed

The towers of Niankan-Siol soared skywards, all blue and gold and glass, seemingly as light as air. Walkways, weightless and swaying, threaded among the pinnacles and spires, while winged creatures and air transports flitted between the glittering heights.

But Niankan-Siol was a living illusion. The towers were deep-rooted in the despised under-city where an enslaved people huddled in earth-bound decay. While beyond the teeming city, the whole land was dissolving into Chaos and darkness as the swirling demonic energy of the Maelstrom tore the sorcery-doomed world of Jhensit apart.

Prince Ashurek, grieving for Silvren, his lost love, looked up and shuddered.

Author's Comment... As noted above, this is actually a Blackbird novel, a story about Ashurek and Silvren that falls between A Blackbird in Darkness and A Blackbird in Amber. (NOW ON KINDLE! See above.)

For reasons lost in the mists of time, it was published in conditions of utmost secrecy, with a strangely inappropriate cover that resembled a weird kitchen implement marooned in a sandstorm. Little wonder, then, that readers (a) did not realise this book was related to the Blackbird sequence, a "side-quel" if you will, and (b) were not even aware that it existed!

I have some copies left - email me if you'd like one. My ultimate plan is that Darker will be brought in from the cold and included with a new Blackbird novel, A Blackbird in Crimson Shadow - the story of the sorceress Filmoriel, who's just a tiny child at the end of A Blackbird in Twilight - but when I'll get round to writing it, I cannot say!