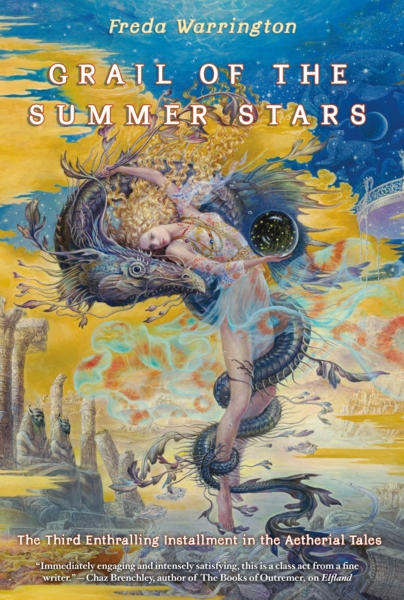 Grail of the Summer Stars
Published by Tor US on April 23 2013, hardback and ebook, Audible.
"
A classy, beautifully rendered tale... a complex enterprise with real heft, a rich back story and characters that grow with the narrative. A must for existing fans, while being easily accessible to newcomers." - Kirkus Book Reviews
"I know Freda Warrington's writing from her vampire novels. And now I know this wonderful writer in another capacity, as the teller of phenomenal fantasy tales that ride a delicious edge of two worlds, and in between. Warrington is a gorgeous writer, a mistress supreme of syntax, style and pacing; be prepared to fall head-over-heels in love with her writing. Aetherial Tales, particularly Grail of the Summer Stars with its unique mystery, left me enthralled." - Nancy Kilpatrick, Author:
The Power of the Blood
series, Editor:
Danse Macabre
:
Close Encounter With the Reaper
Third book in the Aetherial Tales series - Grail is a contemporary fantasy that can be read in its own right, but completes a larger story arc over the three books that I hope you won't want to miss!
A visionary painting titled "Aurata's Promise" arrives at the museum where Stevie Silverwood works, with the cyptic words attached, "The world needs to see this." But why? Who is Aurata, and what is she promising? Stevie can't ask the artist, her old friend and sometime lover Daniel... because he has gone missing.
Her enquiries brings her into contact with a gorgeous but unsettling stranger, Mistangamesh, who has troubles of his own.
For thirty thousand years, Mist has been doomed to pursue his treacherous brother Rufus to avenge the destruction of a legendary Aetherial city, Azantios. Daniel may hold the clue to Rufus's hiding place - if only Stevie and Mist can find him before his visions of apocalypse come true...
Their search leads them to Sam, Rosie and Lucas (Elfland), followed by a terrifying journey into the Otherworld where they discover a tangle of Aetherial mysteries far worse than they'd ever dreamed.
Scroll down for author comments on the series, and some reviews... Be warned, it's a lot of words... but if you don't like words you wouldn't be reading novels, right?!?
---
Elfland
Tor US 2009, hardback, paperback and ebook, Audible.
Winner of Romantic Times BEST FANTASY NOVEL award 2009
"Sensuous and intense - buy it, read it, love it!" - Melanie Rawn
"Compellling, enchanting, and utterly enthralling. This is simply one of the best fantasy novels of the year." - RT Book Reviews

First book in the

Aetherial Tales

series. Auberon Fox is the warm heart of the English village of Cloudcroft and father of a happy family including his daughter, Rosie. But on the hill lives the mysterious, aloof Lawrence Wilder, Gatekeeper to the inner realms of the Spiral. Tortured by personal demons, Lawrence is beset by trouble on all sides. His wife has left him; his sons Jon and Sam are angry and damaged, and when he refuses to open the Great Gates, preventing access to the Otherworld, the Aetherial community is outraged. What will become of them, deprived of the home realm from which their essential life-force flows?
Rosie, an Aetherial among mortals, knows the Wilders are trouble, but she and her gentle brother Lucas can't seem to keep away. She falls in love with the alluring Jon Wilder; she is tormented by his notorious brother Sam, who is always in trouble. Rosie becomes caught in a classic conflict between trying to live a 'normal', hard-working human life, or surrendering to her wild, Aetherial instincts. Ultimately she makes a disastrous choice that leads to tragedy…
Journeying deep into the Spiral as she tries to pick up the pieces, Rosie can't escape her destiny as she learns about life, love… and her role in the terrifying conflict to come.
Scroll down for author comments on the series, and some reviews...
---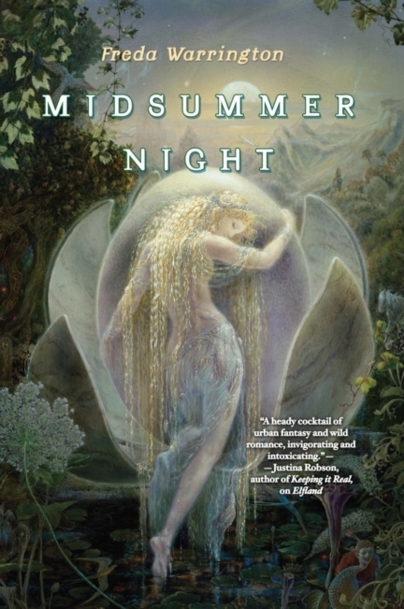 Midsummer Night
Tor US 2010, hardback, paperback and ebook, Audible.
Chosen for Booklist Online (American Library Association) list of TOP TEN FANTASY & SF NOVELS of 2010
"Exquisite sense of wonder that makes the heart of this old reader sing." - Charles de Lint, Fantasy and SF magazine March 2011
Second in the series. The idea of the
Aetherial Tales
is simple. It's not a trilogy, nor is it a never-ending serial. Each novel is separate and stands alone, but each shares the same background of a mysterious race living among humans. Certain characters may cross over. Perhaps, down the line, old characters will reappear with a new story to tell.
In Midsummer Night, there is a mystery. What became of brother and sisters Adam, Corah and Melody on the sinister "Night of the Dunkelman" nearly a hundred years ago?
In the present day, Gill Sharma arrives at Cairndonan House a broken woman, seeking rest and isolation after a devastating accident. But the owner of the house is none other than Dame Juliana Flagg - descendent of Melody - a renowned, powerfully charismatic sixty-something sculptor who has a few secrets of her own. Add Peta Lyon - a mischievous Aetherial woman who made an appearance in Elfland - and Gill finds herself caught up in a tide of eerie, terrifying events as an ancient and dangerous Aetherial named Rufus is set free to roam the Earth again.

---
Author's Notes...


Elfland
originated like a slow-growing vine. The idea had three main roots; first, I've always been fascinated by the idea of other-wordly creatures who look human but aren't; angels, demons, elves, vampires, demi-gods and so on. My Aetherials (or Aelyr) evolved as my interpretation of such a race. In fact they made their first appearence in my
Jewelfire Trilogy
(The Amber Citadel, The Sapphire Throne, The Obsidian Tower) - another branch of the family, perhaps!
Secondly, I'm intrigued by houses - it seems to me that every household is a microcosm, its own universe. You are living your life, while yards away, your neighbours are living an entirely different one. An infinity of other worlds all around us! So an idea began to form of a warm, friendly house inhabited by a loving family, and a desolate stone mansion on the hill above them, containing a cold, broken family.
I also knew it was a story about the anguish of unrequited love.
After The Court of the Midnight King was published, I started having discussions with my then-editor about a new series. I wanted to write about Aetherials, a hidden race who have prowled through human history. He, however, was keen to push the idea in the direction of Conspiracy Theory - it was around the time that the Da Vinci Code became huge - which was not quite what I had in mind. After all, many authors have written accomplished alternative histories and I didn't want to compete in that area. I wanted to write my Aetherial characters' own personal stories.
I was growing ever more uncomfortable with the idea of Conspiracy Theories. I knew I couldn't write something I didn't believe in. However, it came to pass that I found myself 'between publishers'. Although this was a blow at the time, it was also liberating. Suddenly I was free to write whatever I wanted!
So I abandoned work on the project we'd been discussing, and started something else instead - a novel I wanted to write for my own pleasure, the story of the Fox family and the Wilder family that became Elfland.
---
Midsummer Night: a few thoughts...
When I read a good novel, I always wonder what was the author's initial inspiration. Yes, it's that good old question, "Where do you get your ideas from?"
My own stories often spring from an image, a simple idea or even just a feeling. Often it's a character; for example, on one occasion a snowy-pale face with long jet-black hair appeared in my head. At once I knew her name was Violette and that she was a ballerina, yet somehow connected to the goddess Lilith. From that single image sprang two whole novels in my "Blood Wine" vampire series.
With my first "Aetherial Tale" for Tor US – it was a little more complicated. One day I entertained the notion that every single household is like a separate universe. I imagined two families living close to each other, one warm and loving, the other cold, splintered and dysfunctional, and from that evolved all the love, hate and drama between the Foxes and the Wilders.
Oh, and one more thing – I knew these people weren't quite human, but of an ancient, slightly-elfish-but-not, race known as Aelyr or Aetherial.
Now the second Aetherial Tale,
Midsummer Night,
is out, I've been thinking about its origins. Oddly, it's been in my head for over ten years – I actually began writing an early version of it long before
Elfland.
The final version has evolved a lot since then, but it always pivoted around the same central character: a grande dame, a renowned sculptress in her sixties called Dame Juliana Flagg. Of course there are younger folk in the story too, but I loved the idea of writing about an older woman with the magnificence of a dowager duchess and some dark secrets to unravel.


Midsummer Night
is stand-alone novel, so you don't have to read the first book to enjoy it. However, it is set against the same background – a contemporary world where the Aetherial race lives quietly (sometimes!) among humans, occasionally crossing into the Otherworld, aka the Spiral. Some of the fun I've had with the book lay in introducing the occasional character from the first novel, or a strand of plot that explores what seemed, in
Elfland
, to be just a throwaway reference. I hope readers will enjoy picking up on these small connections too, and thinking,
ahah
.
..
So, to the story. Decades ago, at the remote Cairndonan estate on a storm-lashed coastline where the veil between our world and the Aetherial realm is thin, Juliana's uncle – a young man called Adam – vanished in mysterious circumstances. Now Juliana has inherited Cairndonan – did I mention I'm obsessed with huge, atmospheric old houses? – where she sculpts and runs a summer art school. However, all is not well, as she is plagued by ghosts, money troubles and her sinister ex-husband.
Then a young woman named Gill arrives to rent a cottage on the estate, in order to escape problems of her own. All Gill wants is solitude, but soon she's entangled with the eccentric, flamboyant artist Peta, the creepy manservant Ned Badger and other residents of the great house – not least Juliana herself.
One day Gill accidentally wanders into a strange village called Boundry that appears on no map. There she meets the seductive Rufus and his equally gorgeous but silent, brooding companion, Leith. The encounter leaves her unsettled. Are these two young men as innocent as they seem – or are they poised to visit chaos, vengeance, death and heartbreak upon the human world?
Well, I know the answer… and now you can follow them further into the third novel, Grail of the Summer Stars!
I was so thrilled when Elfland won the RT Reviewers' Choice Award for

Best Fantasy Novel

of 2009. I hope you'll enjoy Midsummer Night and Grail as much. Here are some review snippets.

If you check my Home page and Contacts page, you'll find external links to more reviews, excerpts and and interviews.
---
Some reactions to Elfland...
"A real page-turner and a very magical book… Even the most jaded fantasy reader will quickly fall under the spell of her characters and the warm, intimate voice Warrington uses to tell us their stories. Highly recommended." – Charles de Lint, Magazine of Fantasy & Science Fiction

"What in the world have people been thinking, not to have published this woman in the US long before this? Sensuous and intense – buy it, read it, love it!" – Melanie Rawn

"Prolific British author Warrington (the Jewelfire Trilogy) puts a distinctive spin on human/nonhuman relations in this sensuous, relationship-driven story. Solid wordplay, great pacing and a thrilling conclusion will definitely earn Warrington some new American fans." – Publisher's Weekly

"Romantic in every sense, richly imagined and richly told, ELFLAND is a complex fantasy of the heart, of the faerie heart; and it's a delight. Immediately engaging and intensely satisfying, this is a class act from a fine writer." – Chaz Brenchley

"A glittering treasure-trove and a stunning read for Warrington's multitude of fans." – Tanith Lee
"A literally enchanted story of magic, love, loyalty and hope, imbued with an authentically pagan sensibility." –

Liz Williams



"A heady cocktail of urban fantasy and wild romance, invigorating and intoxicating. Warrington's writing has lyrical beauty and her characters are a delight to discover." –

Justina Robson



"Elfland is an absorbing and gripping journey into a world where the boundaries between realities are thin, and the otherworldly shivers alongside us, unseen. Sensitive characterisation and evocative scene-setting draw you into the tale; you won't want to leave it." –

Storm Constantine



"Freda Warrington has an enviable skill for depicting the everyday rubbing up against the fantastical. But this dark yet strangely uplifting tale does more than evoke wonder. It also presents us with characters we care about." –

Stan Nicholls
Full review from FantasyLiterature.net (also posted on Amazon by "Melusine" - 5 out of 5 stars)
Cross Elizabeth Hand with Fire and Hemlock, and you might end up with something like Freda Warrington's
Elfland
. This is the kind of big, sweeping modern faerie tale that you don't see often on the adult shelves anymore. There's been some beautiful work done in YA recently, but in the adult realm, the trend has been away from novels like this. And that's a shame.
Elfland
is complex, rich, sensual, beautifully written, and sometimes heartbreaking.
I devoured
Elfland
. I carried it with me everywhere for four days, because I never knew when I might have a spare five minutes to steal a page or two. When I was at work, I looked forward to going home so I could read more. I read late into the night, every night. I was hooked. That, to me, is the surest sign of a five-star book: the complete inability to put it down unless I absolutely have to!
Our heroine, Rosie Fox, is of Aetherial (fae) descent, living with her family just this side of the Great Gates that divide our world from the Otherworld. Rosie's haughty neighbor, Lawrence Wilder, is the Gatekeeper, and as such, is supposed to open the Gates every seven years to allow travel, and a flow of energy, between the realms. As the story opens, however, he has shut the Gates, claiming a great danger lurks on the other side. Elfland follows Rosie, her family and friends, and Lawrence's family over the course of the next fourteen years. Fourteen years: long enough for a girl to grow into a woman, for loves to be lost and found, and for family secrets to explode. Long enough for some Aetherials to decide it's better to deny their fae nature, and for others to resort to desperate measures to reopen the Gates.
At its heart, Elfland is about how denying one's true self is a sure path to disaster. It's also a love story. I usually don't go for romances in which the hero and heroine bicker, but Warrington makes the trope sing. Rosie and her eventual love interest get off on the wrong foot as kids, and the way their relationship develops seems painfully realistic to me, with the characters slipping back into snarky retorts because they're familiar, and because the retorts serve as an outlet for emotions more disturbing than anger. Both characters have a lot of growing to do before they're a good match for each other. Elfland is, in part, the story of that growth, and of the sometimes wrenching mistakes made along the way.
When the plot moves into the Otherworld, Warrington handles the journey perfectly. It would have been easy to let the story get bogged down in travelogue here, to slow the pace down by showing the reader every single strange thing that populates the Aetherial realms. Warrington doesn't fall into this trap. She gives us a glimpse of how beautiful and how terrifying Elfland can be, but leaves some things to the imagination, and keeps the focus firmly on the characters' quest. This has a dual effect: it keeps the plot moving, and it allows the Otherworld to retain some of its mystery.
Overall, I loved Elfland. It's a sumptuous feast of a novel, filled with vivid characters, magical locales both earthly and Aetherial, and a complicated plot in which nearly every detail turns out to be significant in the end. I'll definitely be looking up Freda Warrington's backlist.
---
Some Reviews of Midsummer Night
"REALIZED something sad the other day: I don't run into books with the "wow" factor as much as I once did. By that I mean the kind of books that swallow you into the story. They have a fresh premise, or setting, or great characters — the best have all three — and you simply have no idea where the story is going to take you... Books that you find hard to put down…. During the reading period for this column I got a couple, and one of them was Freda Warrington's latest novel,
Midsummer Night..
. We have the otherworld, faerie folk (which Warrington calls Aetherials), lost souls, and all sorts of good stuff. And unlike the urban fantasy books that have taken over most of the fantasy section, this is old school fantasy. Magic that's full of awe and wonder. It reminds you why we love this kind of story in the first place… Each book [
Midsummer Night
and
Elfland
] is a stand-alone volume and an absolute delight… I have a lot of fun with the kinds of fantasy/supernatural books that dominate the field at the moment, but none of them can match a novel such as either of these two — for storytelling that takes you where you don't expect to go, and for that exquisite sense of wonder that makes the heart of this old reader sing." –
Charles de Lint
(from a much longer review for F and SF magazine)
"Delicate as gossamer, rich as darkest chocolate, Midsummer Night is a delicious, delectable, ravishing concoction of a book that fills the senses and satisfies the dreaming mind. Through the mists and mysteries of a Scottish spring, Freda Warrington summons the horns of Elfland and leads readers back to the authentic dark heart of the Fae." –
Kari Sperring
"A sumptuous contemporary fantasy, rich with mysterious characters, romance and intrigue. Beautifully written, a delight to read." –
Justina Robson
"One of the things that defines great fantasy is a Mythos that 'speaks' to the reader, draws them in, keeps them reading and then keeps them hungry for more. The ongoing history of an imagined world brings it alive to the reader; they suspect things might still be going on in there when they put the book down! In Midsummer Night, and the book in the series before it, Elfland, Freda Warrington shapes a rich Mythos. But Midsummer Night is not just a fantasy set in another world; it's also a contemporary mystery, thriller and romance. I thoroughly enjoyed it, lost myself in Freda's world quite happily for hours at a time and look forward to more." –
Storm Constantine.
"A powerful sense of wild landscape and strong characterisation, plus a resonance of ancient magic, make MIDSUMMER NIGHT a truly compelling read." –
Liz Williams
"Now let's see why I found "Midsummer Night" so impressive. On opening the novel, the superb writing style of the author just hooked me and the book was one of those "read me now" ones that you cannot leave until you finish... The plotting of the novel is superb with all the aforementioned secrets slowly revealed … This seamless integration of "character back story" and forward action is another major strength and "Midsummer Night" just flows with no narrative walls... all integrated in a tapestry. The world building – both the Scottish remote estate atmosphere and the Aetherial world where a lot of the "physical" action happens – is excellent too…
" –
Liviu C. Suciu, Newsodrome and Fantasybookcritic.blogspot.com
"When you love a book as much as I do Freda Warrington's Elfland (Aetherial Tales), there's always a little bit of fear mixed in with the anticipation for its sequel… Now that I've read Midsummer Night, though, I can report that I'm still happily ensorcelled. Midsummer Night lives up to the quality of Elfland and is a terrific novel in its own right.
Midsummer Night is beautifully written and gives the reader the sense that Warrington's world is hiding just one wrong turn away from ours… This book has everything: a big complex plot, emotionally compelling characters, evocative writing, gorgeous settings, a sense of wonder, a bit of humor, great use of tiny little details that might not seem important at first, and a few scenes that will scare your socks off! It shares a cosmology (and a secondary character or two) with Elfland, but can stand alone. You'll want to read Elfland anyway though, as it's wonderful; the AETHERIAL TALES are some of the most enchanting fantasies I've read in years and I highly recommend them." –
Kelly L, FantasyLiterature.net
"Like so many British and Irish fantasy writers, Warrington writes beautiful prose with lush descriptions. She digs deep into her characters, and, as they develop, the readers learn surfaces are far different from the real people. The sculptures of Juliana form an apt metaphor for the complex personalities of both human and the Aetherials. They are different people by the end of the novel and she excels at weaving in tantalizing bits of past history to show why they act and react as they do." –
Mel Jacob, SF Revu
"Freda Warrington writes beautifully without sacrificing pace. Her characters feel real and are sometimes uncomfortable companions. She makes the ordinary magical and the extraordinary realistic. I just wish more of her books were available in the States. She's a writer that more people should read because she has an amazing talent for telling tales. Fans of Alice Hoffman or Audrey Niffenegger would love these books. She is one of my favorite British Fantasy writers writing today, and I look forward to her next book." –
K.Anderson, Amazon.com

---
Some Reviews of Grail of the Summer Stars...
"A story blending timeless fantasy tradition with fresh and vivid invention, written with such clarity and conviction to utterly engage the reader with each character and every twist of their intertwined tales." –
Juliet McKenna, author of The Tales of Einarinn
"Freda Warrington deftly weaves together contemporary art and ageless magic in this vivid, atmospheric fantasy." –
Tricia Sullivan, author of Maul
"
They walk among us, the ageless ones…
Freda Warrington spins another captivating and haunting tale in which the mystical, hidden world of the hauntingly beautiful Aetherials intersects with our own – with potentially devastating results. Talented young jewelsmith Stevie Silverwood finds herself drawn inexorably into a bitter and ancient conflict that will not only change her life – but ultimately threaten the very existence of our planet.
New readers need feel no qualms about starting here as this page-turning fantasy can be read as a standalone – although fans of the two earlier Aetherial Tales will devour Grail of the Summer Stars, eager to discover more about characters they have met before and to delve deeper into the arcane secrets of the ancient, ageless Aetherials." –
Sarah Ash, author of Lord of Snow and Shadows
"I really loved it: great characters, terrific story, very moving and involving." –
Kari Sperring, author of The Grass King's Concubine
"Third of Warrington's related but independently intelligible aliens-among-us Aetherial Tales fantasies (Midsummer Night, 2010, etc.).
Thirty thousand years ago, the Aetherials, serially immortal, pure-energy beings, fled their home and took up residence, some in human form, on Earth. Previously, Mist, a human-formed Aetherial, was murdered by his duplicitous brother, Rufus, who, thousands of years ago, destroyed the Aetherial city of Azantios. Reborn Mist has few of his memories, human or Aetherial, but knows that he must find Rufus—and kill him. Meanwhile, Birmingham art gallery curator and talented designer Stevie Silverwood receives an unsolicited visionary triptych from old college flame Daniel Manifold. The triptych, called "Aurata's Promise," vividly and vigorously depicts a ruined palace, a scarlet-haired goddess and a city in flames. It bears a message to Stevie: "The world needs to see this." But, arresting though the artwork is, why? Daniel, she discovers, has vanished from his London studio. Mist, recalling something of who and what he is, follows the clues to Birmingham. He recognizes not only the scenes in the triptych, but the people too; only the title remains baffling. But with his rusty human attributes, when he tries to talk to Stevie, she recoils. Then, one night in the gallery, an eerie presence manifests itself, cracks Stevie over the head and vanishes with the artwork. With no other choice, Mist must make another attempt to reassure Stevie, since he will need her help in tracking down Daniel, the triptych and Rufus—whatever the latter is planning, it definitely won't be good.
A classy, beautifully rendered tale that persuasively builds from low-key beginnings into a complex enterprise with real heft, a rich back story and characters that grow with the narrative.
A must for existing fans, while being easily accessible to newcomers." -
Kirkus Book Reviews
"I know Freda Warrington's writing from her vampire novels. And now I know this wonderful writer in another capacity, as the teller of phenomenal fantasy tales that ride a delicious edge of two worlds, and in between. Warrington is a gorgeous writer, a mistress supreme of syntax, style and pacing; be prepared to fall head-over-heels in love with her writing. Aetherial Tales, particularly Grail of the Summer Stars with its unique mystery, left me enthralled." -
Nancy Kilpatrick
,
Author: The Power of the Blood series, Editor: Danse Macabre: Close Encounter With the Reaper