AT LAST! The Court of the Midnight King is now available on Kindle (£2.49/ $3.98 - price may vary due to VAT changes) with a shiny new cover. Other formats will follow - see below. Follow the links to purchase or to read an extract...
2015 - Also now available in a brand-new gorgeous paperback edition to commemorate the reinterment of King Richard III. Yes, real books are back!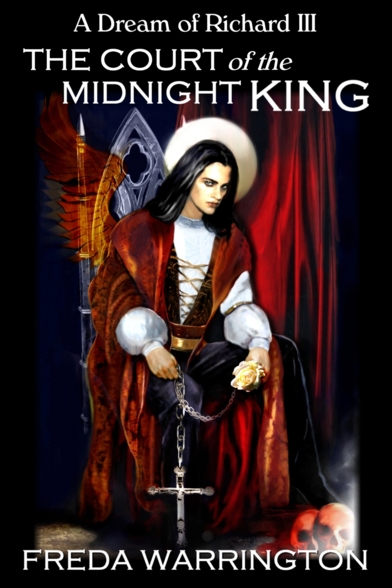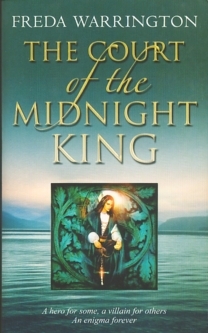 The Court of the Midnight King
First Published by Simon & Schuster 2003, paperback
A dream of Richard III...
"Superb fusion of fantasy and historical romance ... Tell all the romance fans and the fantasy fans you know about it." - Justina Robson
"Freda Warrington writes yet another beautiful novel."
"Brilliant! Once you start to read it I guarantee you won't be able to put it down."
"One of my very favourite historical fantasy novels, this is a lushly written alternate version of Richard III's history, with magic and romance and a rich sense of period. Gorgeously written, a wonderful book to sink into."
"Let me begin by saying I am a medieval historian... If you think this is going to be the usual 'Richard III tale' forget it... A wonderful read."
"If you like Ms Warrington's ability to take an old subject and make it all shiny new and exciting, then buy it!" - Amazon reviews
---
The Wars of the Roses - a colourful age, full of fury and passion
Richard III - a shadowy, charismatic figure, portrayed by Shakespeare and by history as England's most malign, ruthless and infamous king ... hacked to death on Bosworth Field in a just ending, unmourned.
But history is written by the victors. Other realities reveal a different Richard; one who was loved and remembered in the North as their best ruler; a man who, good or evil, can never be forgotten.
To Lady Katherine, he is a dark angel; to his faithful knight Raphael, a creature of light; to others, a complex and seductive mystery. Through their eyes we see Richard grow in a strange world - like ours yet unlike, where a Mother Goddess is still revered alongside a patriarchal God. As the struggle between old and new religions is mirrored in that between York and Lancaster, a chance meeting binds Katherine and Richard reluctantly together, and Raphael becomes haunted by nightmare visions of the future. From their youth, the novel traces their story along with that of England during one of the most fascinating times of our history.
In the bestselling tradition of The Mists of Avalon and Lady of Hay, The Court of the Midnight King mixes history with the fantastical to create a wonderful, epic tapestry of love, war and treachery.
---

"Richard is gone from us, yet his name fascinates every tongue."
- Rosemary Hawley Jarman
Author's comment...

In 2013, scientific testing proved that a skeleton found by archeologists beneath a car park in Leicester was that of King Richard III, who died at the Battle of Bosworth in 1485. His bones had not, as rumoured, been ignominiously thrown into the River Soar and lost. Instead, they were still buried within Greyfriars Priory - long-ruined and built over - where he was originally interred after his death.

The discovery seems miraculous. That his grave happened to be under a car park and not a building. That his remains were still there, mostly intact. That only the devotion of a member of the Richard III Society led to the dig happening at all. That we now have the modern technology to prove it was really him. This sort of thing just does not happen - and yet it has!

In 2015, King Richard's reinterment at Leicester Cathedral attracted massive interest from the world-wide media and the general public. You don't have to be a Ricardian to have been swept up in the sheer history and pageantry of the occasion. Events that were bookended by an eclipse of the sun and a blood-red moon. Not that I believe in portents - it just made for a month of wonders!

As a result of the huge new surge of interest in Richard, I decided it was time to make my out-of-print Ricardian novel available in ebook format and print-on-demand. You can also find it in audio form from Audible.

I've been fascinated by Richard III for years. King for only two years - 1483-1485 - he still excites raging controversy to this day. The public perception of Shakespeare's hunchbacked villain who murdered his two nephews, the Princes in the Tower, is a caricature. Some historians agree with this view of him as an unmitigated villain, while some revisionists portray him as a virtual saint. As a sometime member of the Richard III Society, naturally I lean towards the latter view, but I don't suppose my stance would please purists of either persuasion. While I don't think he was a saint, I don't believe he was any worse than his contemporaries in a violent age, and probably better than most. He was regarded as a good ruler in the North and much-loved there. My very personal opinion is that he seized the throne in order to keep it out of the grasping hands of the Woodville family and in the Plantagenet line through his own son. Sadly, Richard's son died in childhood.

Furthermore, in dramatic terms, an edge of ruthlessness and danger is sexy in a way that pussycat niceness isn't. In other words, I see his image as erotically charged in the way that fictional "villains" such as vampires, Ashurek, Elric or even Darth Vader are erotically charged for me - a view that definitely doesn't go down well with historical purists! (Darth Vader... yes I know I'm strange...)
I wanted to explore the mystery of the man - and also to point out that you can explore until you're blue in the face and still be no closer to the reality of him. The book was conceived as an alternative-world fantasy so that I had scope to play with the story that would not have been possible with a straight historical account. I knew there were plenty of novels about Richard out there - but if I had realised just how many there are, I would never have had the nerve to start my own. Probably the purists would think it better if I hadn't, but to me it was a worthwhile project.
The amazing artist Ruby produced a fantastic cover image, showing a stunningly gorgeous Richard all in black, red and gold. Unfortunately, once the publishers' art department got their hands on it, they reduced Ruby's image to a tiny square in the middle of an attractive but pointless landscape. It's a nice cover, but not as fabulously dramatic as it should have been...

I still feel I owe Ruby grovelling apologies for what they did to her image. And I hope I've rectified matters by showcasing her original image as it deserves!