Set in the lush, decadent modern world of the 1920s, sexy yet gory, romantic, ruthless and deeply atmospheric, the Blood Wine books are like nothing you've read before... No zombies. No werewolves. Just vampires who are grown-up, passionate, and not afraid to be vampires...
If INTERVIEW WITH THE VAMPIRE met DOWNTON ABBEY... it would be absolutely nothing like this...
Titan Books, April 2013, paperback and ebook. US - Oct 2013
.
Previously published by Pan Macmillan 1992 and Meisha Merlin 2002 (earlier covers below)
"Not merely one of the finest fantasy novels of recent years, but one of the finest ever. Should not be missed" - Brian Stableford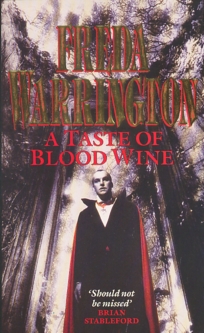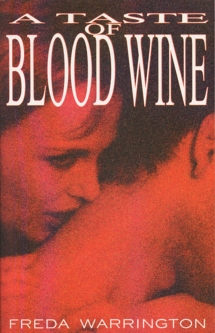 "Throbs with lush romanticism" - The Times

1918. A First World War battlefield becomes the cosmic battleground for two vampires, as Karl von Wultendorf struggles to escape his tyrannical maker, Kristian.

1923. Charlotte Neville watches as her father, a Cambridge professor, fills Parkland Hall with guests for her sister Madeleine's 18th birthday party. Among them is his handsome new research assistant Karl - the man Madeleine has instantly decided will be her husband. Charlotte, shy and retiring, is happy to devote her life to her father and her dull fiance Henry - until she sees Karl ...

For Charlotte, it is the beginning of a deadly obsession that sunders her from her sisters, her father and even her dearest friend. As their feverish passion grows, Karl faces the dilemma he fears the most. Only by deserting Charlotte can his passion for her blood be conquered. Only by betraying her can he protect her from the terrifying attentions of Kristian - for Kristian has decided to teach Karl a lesson in power, by devouring Charlotte.

He's sure to come a-calling
When the shades of night are drawn
A twisted blackthorn in his hand
He'll linger until dawn.
You wish to stay forever young
But only he knows how;
It's his blessing, it's his curse
And it's your decision now ...
- Horslips, Ride to Hell
Author's comment... I've always been intrigued by vampires, but frustrated by the fact that, in novels from JS LeFanu's Carmilla to Anne Rice's Interview with a Vampire, human-vampire relationships were shown to be impossible. (I'm talking about the late seventies, early eighties - clearly it's become rather more commonplace since then!)
So I began to write a story about a shy heroine (Charlotte) falling for the most devastatingly gorgeous vampire I could devise (Karl), without it turning into a tale of victimhood and vampire-hunting. I began an early version of ToBW back in about 1983, as a form of escapism during a rather difficult period of my life. Much revised, it was published in hardback in 1992, long before the latest explosion of vampire popularity!
Later, a face came into my mind; a icily beautiful woman with ivory skin and jet black hair. I knew she was a dancer and that her name was Violette, and that she was somehow connected to the goddess Lilith. From that single image grew the two sequels "Velvet" and "Poppies" (see below).
A Taste of Blood Wine and its sequels are among my most successful and best-loved books, prompting The Times to comment that my writing 'throbs with lush romanticism'! I can't write without passion, and a huge amount of passion certainly went into these novels. I found vampires the ideal characters to explore questions of love, fear, death, religion, sex, psychology... all the stuff of life, in fact.
The series remained out of print for many years and extremely hard to come by, as I learned from endless emails that I still receive every week from frustrated readers. I was on the verge of republishing the books myself when at last I had good news - Titan Books made an offer to reissue the first three and commission a brand new fourth one. To my delight, their cover designs are gorgeous - the sort of luscious, sensuous covers I always dreamed of.
The Horslips lyrics are used by permission. Many of Stevie Nicks' dark, mystical songs also formed a 'soundtrack' to the series, but alas, I couldn't easily get permission to quote from them. Listen to Sisters of the Moon or Outside the Rain and you'll get the idea.
---

If THE VAMPIRE DIARIES met BLACK SWAN... you can be sure that this would

not

be the result...
Titan Books, Oct 2013, paperback and ebook. US - May 2014.
Previously published by Pan Macmillan 1994. (Ealier cover is shown below).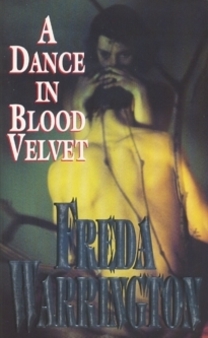 "No finer vampire novel has been published in any century. The true Queen of the vampire novel." - Black Tears magazine.
For the love of her vampire suitor, Karl, Charlotte has forsaken her human life. Now her only contact with people is when she hunts them down to feed. Her thirst for blood repulses her but its fulfilment brings ecstasy.

The one light in the shadows is the passion that burns between her and Karl. A love that it seems will last for eternity - until Karl's former lover, the seductively beautiful Katerina, is rescued from the Crystal Ring. For nearly fifty years she has lain, as dead, in the icy wasteland of the Weisskalt. Now she wants to reclaim her life ... and Karl.

In despair, Charlotte turns to the prima ballerina Violette Lenoir, an ice maiden who only thaws when she dances. Charlotte is fascinated as she has been by no other human. But her obsession opens the flood-gates to a far darker threat than the vampires could ever have imagined.

For Violette is more than human and if she succumbs to the vampire's kiss it could unleash a new terror ...


In my dreams I see a carnival of ice
You're wearing white and pirouette so nice
When I stop to ask the nature of surprise
A veil of contradictions is slipped before my eyes ...
Death is a ring-a-ring-a-rosey
You never reach the end
Ring-a-ring-a-rosary
I'll pray for you, my friend
- Horslips, Ring-a-Rosey
---



If TRUE BLOOD met THE GREAT GATSBY... No no no. Enough!

Titan Books, May 2014, paperback and ebook. US - Oct 2014.
Previously published by Pan Macmillan 1994. [Previous cover shown below]
"Draws the reader into a twilight world of mystic fantasy which is as irresistible as a pulse beat" - North Eastern Evening Gazette
"A gorgeous grave-throbber" - Time Out

The ballerina Violette Lenoir has fallen victim to the bite of the vampire Charlotte. Her fire and energy have fuelled a terrifying change and a dreadful realisation; that Violette has become Lilith, the demon mother of all vampires.

Haunted both by what she has done and by Violette's dark sensuality, Charlotte and her immortal lover Karl are drawn towards the dancer and the terrible destiny that has fallen on her shoulders.

But other, far more dangerous shadows are gathering around Violette. To the vampire Sebastian and to the dark heirs of Kristian, she threatens to wreak havoc with their plans to bring all of mankind under their dark wings.

Innocently embroiled in the endgame, courtesan extraordinaire Robyn Stafford finally meets her match as she is torn between the two ultimate lovers: Sebastian, and Violette ...


Use both your hands to hold me
Tight! Tighter than you should
My heart is coldest steel
But my body's flesh and blood
Walking hand in hand with silver
Close as gold to kiss
Only lovers left alive
And they're swallowed in the mist.
I'm your Sword of Light
Won't you be mine tonight?
I'm your Sword of Light tonight
Going to scorch you deep inside
Make you glad to be alive
Because I'm your Sword of Light.
-
Horslips, Sword of Light
---


"Dark and sensual and atmospheric, this stunning book continues the story of Karl, Charlotte and their friends, deftly expanding the mythos of vampires and introducing new characters that are sure to become favourites" – Aliette de Bodard, Nebula Award Winner, author of House of Shattered Wings
Titan Books, May 2015 paperback and ebook, UK and USA. First publication.
Europe, 1928: Vampire lovers Charlotte and Karl are drawn into turmoil as Godric Reiniger, a local filmmaker and activist with sinister ambitions, begins his rise to power.
Meanwhile, fiery dancer Emil achieves his dream to partner the legendary ballerina and vampire Violette Lenoir - until his forbidden desire for her becomes an obsession. Rejected, spiralling towards madness, he seeks solace with a mysterious beauty, Fadiya. But she too is a vampire, with a hidden agenda.
When Karl and Charlotte undertake the perilous journey to rescue Emil, they unearth secrets that threaten the very existence of vampire-kind.
Author's comment

... I wrote an outline for this novel about 15 years ago, just before Pan Macmillan decided to cull most of their fantasy authors. Just as well - when I dusted off the outline, I found it far too complicated with too many characters. So I brought it back to the core of those we know and love - Karl, Charlotte, Violette, plus a few new faces to stir things up a bit!
It was strange revisiting my characters and their world again after so long, although not too strange as I've dipped in and out with several short stories over the years. I soon found their voice again. And they are my favourite characters of all, so this certainly won't be the last we see of them. If you enjoyed the earlier books, and/ or if you enjoy a lush 1920s gothic drama circling around romance, silent movies, politics, you name it, with a dash of sensuality and a hint of gore... I think you will you enjoy Dark Arts!
"A really splendid read... Freda Warrington is like a cross between Anne Rice and Kim Newman - she has the sweep of one, the cleverness of the other." - Starburst
(on a Taste of Blood Wine)